Press & Awards
We're beyond lucky to do what we love, and to have folks like it.
Hummingbird has received many awards over the years – some by established chocolate competitions like the Academy of Chocolate and International Chocolate Awards, and others from food critics, writers and consumers who appreciate exceptional chocolate and have expressed their accolades.
We've been recognized for the outstanding chocolate that we make, for our business ingenuity, and also for the contribution that Hummingbird Chocolate makes to the community. We are honoured by all of the awards, press and support we have received over the years and wish to thank you for recognizing our efforts.
Awards
To date we've won over 100 international chocolate awards, including being named the "best chocolate in the world" in 2016 by the Academy of Chocolate, with their grand prize, the Golden Bean.

The Golden Bean
The UK-based Academy of Chocolate is a celebration of good chocolate and a forum that encourages ethical craft. Its annual competition draws in some of the best artisans from Europe and around the globe and we're really elated that the Hummingbird team can be counted among such great company.

We're very proud that Hispaniola 70% received the top honour at the 2016 Academy of Chocolate Awards Gala – the 2016 Golden Bean. Great cacao beans are the root of great chocolate and the farmers and team at OKO Caribe in northern Dominican Republic use care and craft to grow some of the very best. Thank you small, but mighty, Hummingbird team – you guys rock!

Thank you Academy of Chocolate for shining a light on fine chocolate (we've always wanted to thank the Academy).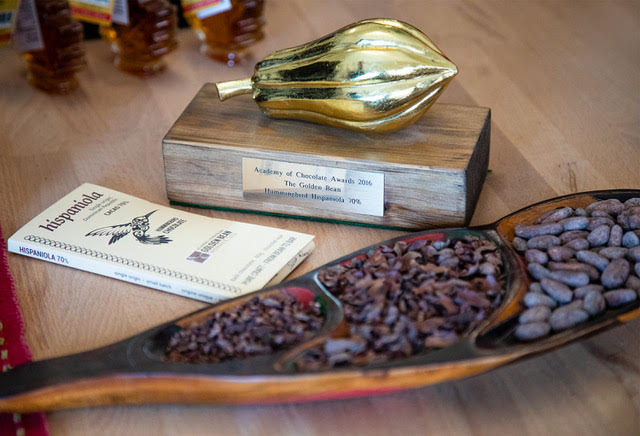 Media Inquiries
We love working with journalists looking to share compelling and unique stories!
If you're a member of the media and would like to connect, please get in touch with us at hello@hummingbirdchocolate.com.